MUSE: Inspiring style for women moving forward
This article by Susan Hill appeared in the January-February 2017 issue of Bliss Babe Magazine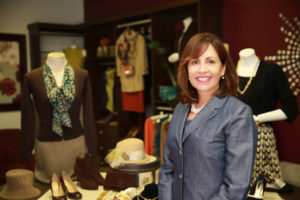 Lenore Aguilar waited more than 40 years to make her dream come true. Now she is helping other women fulfill their dreams. As the owner of MUSE (an acronym for My Unique Styling Experience), she works with women from all walks of life to solve the eternal conundrum: "I have nothing to wear!"
Aguilar's dream began early, when she aspired to a fashion career. She started fashion school after high school, but when her money ran out, reality set in. She had received a financial aid offer from Santa Clara University, so she decided to follow that path toward a psychology degree. Marriage, the birth of a son, an MBA in marketing, several moves and a career in telecommunications followed. But her dream of a career in fashion followed her wherever she went.
When she and her husband moved to Las Vegas in 2012, Aguilar's dream met the perfect opportunity to apply her passion for fashion to helping other women achieve their ambitions. She became a volunteer personal stylist for Dress for Success Southern Nevada. This international nonprofit assists women seeking to better themselves economically. The group prepares women to succeed in job interviews, bolstering their self-esteem and offering personalized head-to-toe styling with the perfect outfit and accessories.
Aguilar's success as a volunteer Dress for Success stylist launched her into leadership as chair of the group's stylist team. "I'm inspired by the almost 150 strong and determined women whom I've styled," said Aguilar. "They are my muse and motivation; they are facing difficult circumstances while improving their lives and their families' futures."
Aguilar's 20-year career in telecommunications came to an end with the company's decision to move her department to New Jersey, allowing her to advance her long-held dream by enrolling in the world-renowned Fashion Institute of Technology in New York City.
She now is merging her professional preparation and extensive volunteer experience to create her MUSE personal styling service. She adds innovation with a Virtual Wardrobe and Lookbook styling app customized to each client. "I assist women in analyzing their personal style, unique needs, body and face shape and best colors and then plan around their existing wardrobes with new finds," she said. "The technology makes the process fun – and I can work with clients locally or long-distance."
MUSE services include wardrobe editing and a customized shopping plan, both locally and online, with recommended buys. "Your appearance is a form of expression," Aguilar said. "If you pay attention to how you dress, will you have more opportunities to achieve your goals. My message is to hold on to your dreams, and never forget your best accessory: your smile!"
For more information about MUSE, visit www.musepersonalstyling.com or call 702-757-8629. To learn more about Dress for Success Southern Nevada, visit www.dressforsuccesssouthernnevada.org.